Art of the Craft - Exploring Art as a Magical Practice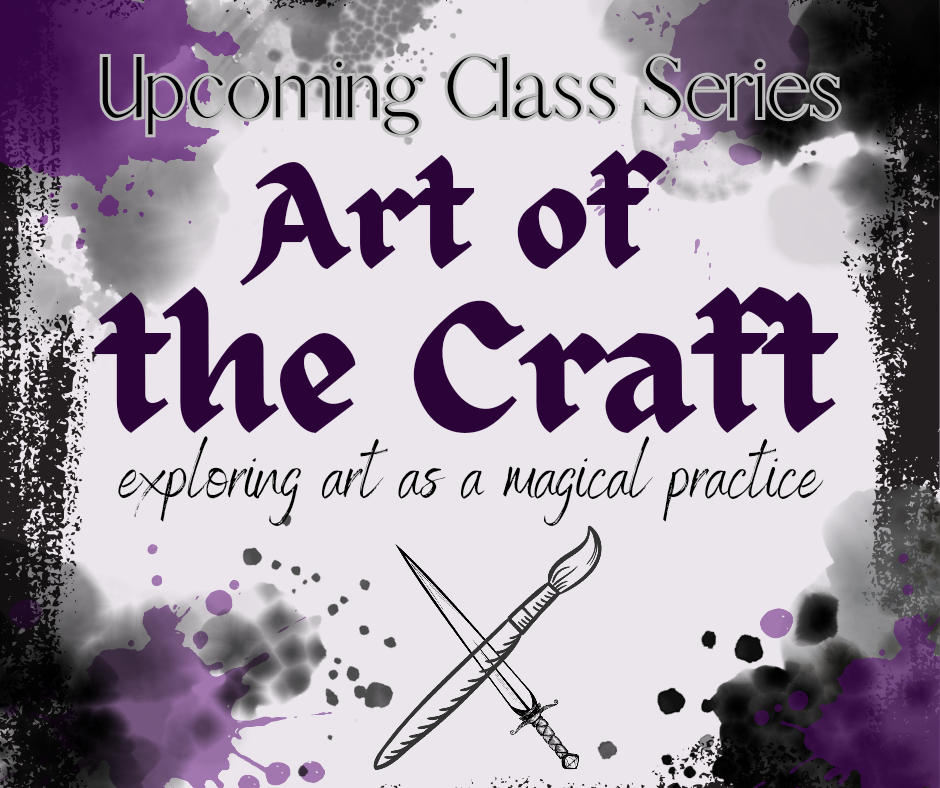 Art of the Craft is a monthly art experience that explores art as an inherently magical process, and the countless practical ways that you can incorporate art into your practice to deepen your connection and feel more empowered. This experience is meant to educate, stimulate, and inspire - with the goal of giving you the power to use these ideas to manifest whatever you desire. 
This event will be a semi-structured experience composed of short lectures, themed activities, and hands-on artistic experiences. In each session, there will be a blend of structured activities (meaning there is a prompt or instructions given), and unstructured time (free time to explore and create while in a curated environment). 
Each session will end with about 40 minutes of free art time and a short wrap-up discussion. This is optional, so if you prefer to leave a bit early you will not miss out on any content. 
This class is for anyone who is interested in using art in their practice - no art experience is necessary! The magic or power of art doesn't depend on the maker's artistic ability, but rather the emotion and intention with which it's created. 
All materials will be provided for this class, and you will receive hand-outs with plenty of space to take notes for each session.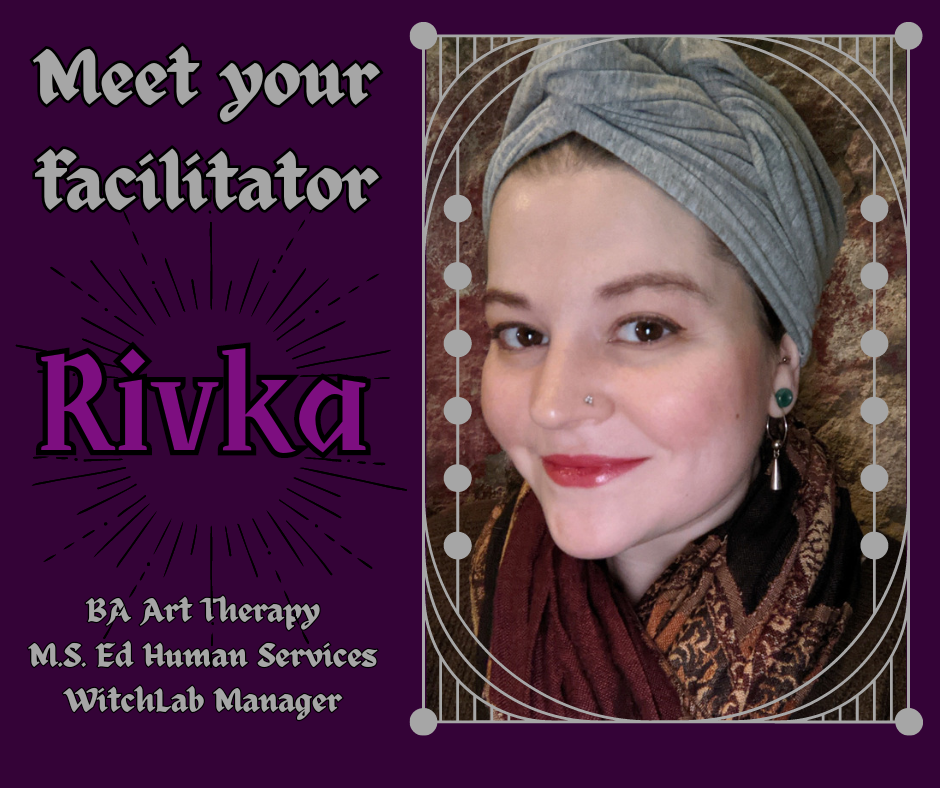 Meet Your Facilitator
Rivka, your facilitator, has a Bachelor's degree in Art Therapy, a Master's degree in Human Services, and has been interested in magic since she was a child. Though this experience is not therapy, Rivka will draw from her knowledge of art therapy, psychology, and witchcraft to inform the content of this class. 
What to expect:
Some brief examples of what kind of topics, activities, and experiences you can expect from this class are below: 
Exploring the ideas "art as magic" and "art is magic"
Taking on the role of The Magician 
Using archetypes to summon power
The magic of synesthesia 
Mask making for manifestation 
Magical doll houses and 3D structures
Trance and automatic art
Keep reading for in-depth details about each of the upcoming sessions!
Bundle the first three sessions and save!
Excited for all of them? Get $15 off when you bundle the first three sessions of Art of the Craft!
Session one: Becoming the Magician
Sunday, July 9th 5pm-8pm
In the introductory session of Art of the Craft, Rivka will introduce participants to the idea of "Art is Magic" - that art is inherently full of power and there are countless ways to harness it. We will also be exploring artistic mediums as tools of power, and taking on the role of The Magician card from the Tarot. 
In this class we will explore:
Using art as a magical process
Different art mediums as magical tools (pencil, pen, marker, paint, clay, etc.)
A brief history of the Magician tarot card and its symbols
Imagining yourself as the Magician
Using your favorite art medium to manifest yourself as the Magician
You will leave with a finished art piece that envisions you as the Magician.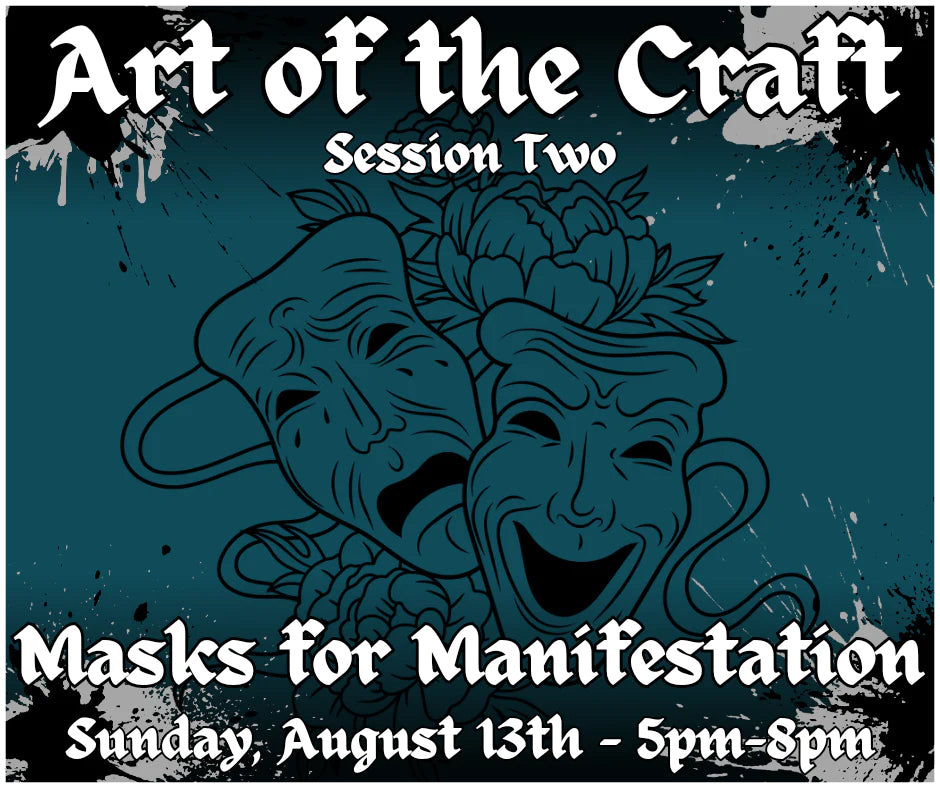 Session Two: Masks for Manifestation
Sunday, August 13th 5pm-8pm
 In the second session of Art of the Craft, Rivka will help you explore the phenomenon of associative synesthesia (feeling strong connections between stimuli and senses, eg. hearing a sound and associating it with a color) and how you can learn to incorporate this idea into your magical practice. We will also be talking about masks for manifestation - you will make a mask during this class molded from your own face and decorate it intentionally in order to create a persona that aligns with your goals. 
In this class we will explore:
Associative synesthesia and how this phenomenon can enhance magical work
Activities that may help access associative synesthesia skills
Exercises meant to stimulate connections between the senses
Masks - their history, and their magical potential
Making masks for magical manifestation of all kinds
You will leave with a mask of your own face.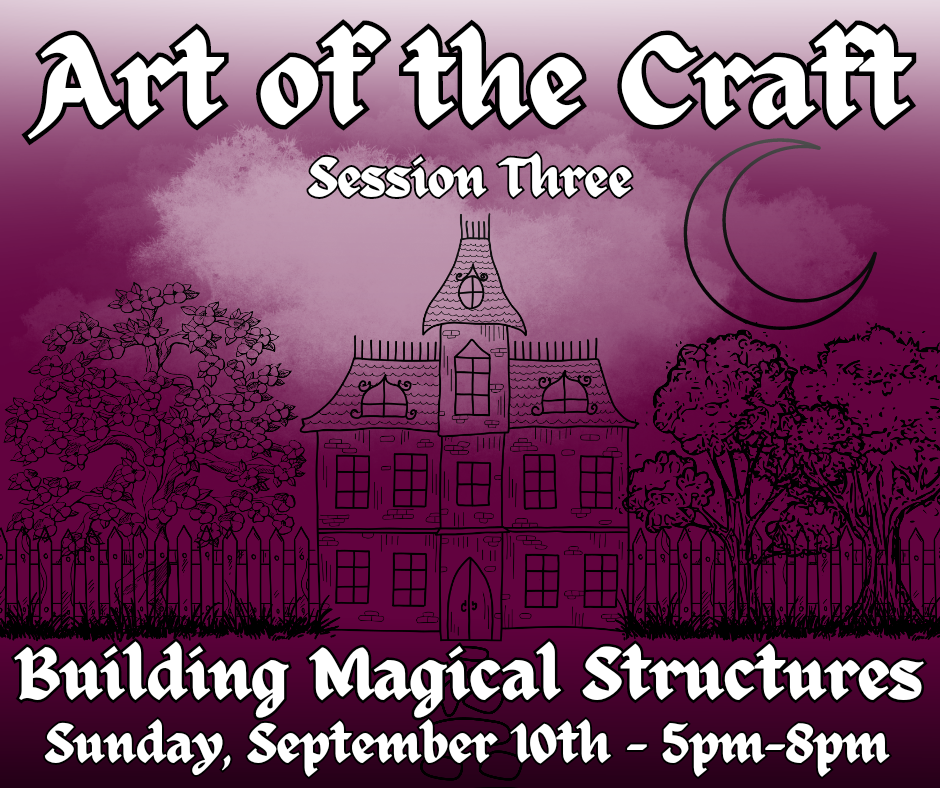 Session Three: Building Magical Structures
Sunday, September 10th 5pm-8pm
In the third session of Art of the Craft, Rivka will explore building 3D structures for magical use and introduce several ideas from art therapy, play therapy, and witchcraft. This session will take a deep look at the multitude of uses for 3D structures in magic, and conclude with participants building their own magical structure to take home.
In this class we will explore: 
Sympathetic magic, its history and its various uses
Doll houses in magic, play and art therapy, history, and folklore
How to build a magical structure and align it to your goals
You will leave with a 3D structure of your design, ready for manifestation. 
Bundle the first three sessions and save!
Excited for all of them? Get $15 off when you bundle the first three sessions of Art of the Craft!